Treasury Bills: What are They and How Can They be Used in a Down Market?
We've been getting a lot of questions lately about Treasury Bills (T-Bills), and for good reason. With markets volatile and inflation running hot, some investors are looking for a safe place to stash cash. Due to the rapid rate increases by the Federal Reserve this year, short-term treasuries are paying rates of return not seen in years.
As of this writing (November 2022) we are in a particularly interesting situation in that short term treasuries are paying better rates of return than longer-dated treasuries, due to the expectation that rates will continue to rise in the future. This, combined with the safety and liquidity offered by treasury bills, make short-term treasuries a great option for the nervous investor wanting an alternative to investing in the stock market.
Below is the yield curve as of 11/14/2022, showing shorter-duration treasury bills paying north of 4%.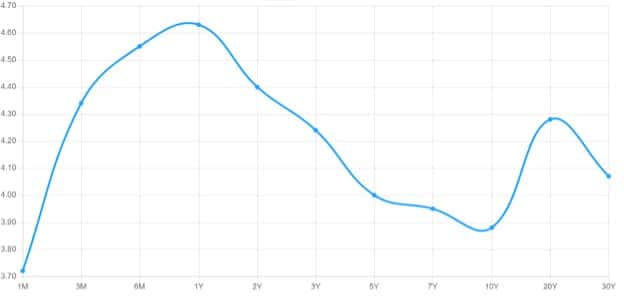 Source: www.ustreasuryyieldcurve.com, accessed 11/14/22
What Risks are Associated with Investing in T-Bills?
If you're thinking about investing in T-Bills, it's important to have a clear understanding of the risks involved. While T-Bills are considered to be one of the safest investment options available, they do carry some risk. Below are a few risks to watch out for.
Opportunity Cost – Since T-Bills have very low risk, they often provide low returns. And although T-Bills are relatively short term, having your money tied up in T-Bills means it can't be somewhere else potentially providing a higher return on investment.
Inflation – If inflation is running at levels higher than the return on the T-Bills, it erodes the value of the interest and if high enough, will eat into the principal. While this is a risk, keep in mind that most cash savings typically return close to 0%.
Interest Rate Risk – If new treasury bills are issued at higher interest rates, the value of existing treasuries will decline.
Default Risk – In a highly unlikely, but possible scenario, the U.S. could default on its debt and decline to repay bond holders at maturity.
What are the Benefits of Investing in T-Bills
Investing in T-bills can be a great way to build wealth over time and hedge against down markets. Here are some of the key benefits of investing in T-bills.
Treasury Bills are backed by the full faith and credit of the US government, so you can be confident that your investment is safe.
They offer a fixed rate of return, so you know exactly how much your investment will grow over time.
Treasuries are very liquid, meaning you can cash them in at any time without penalty (but will be subject to market pricing if redeemed prior to maturity).
They are exempt from state and local taxes, which can help to reduce your tax liability.
If you are interested in purchasing T-Bills or are sitting on a large amount of cash, you should speak with a Morgan Rosel investment advisor. They will be able to provide you with more information about how T-Bills can fit into your overall investment strategy and provide expert guidance on preserving, protecting, and growing your wealth.
This commentary reflects the personal opinions, viewpoints and analyses of the MorganRosel Wealth Management, LLC ("MRWM") employees and guests providing such comments, and should not be regarded as a description of advisory services provided by MRWM or performance returns of any MRWM Investments client. The views reflected in the commentary are subject to change at any time without notice. Nothing on this website constitutes investment advice, performance data or any recommendation that any particular security, portfolio of securities, transaction or investment strategy is suitable for any specific person. Any mention of a particular security and related performance data is not a recommendation to buy or sell that security. MRWM manages its clients' accounts using a variety of investment techniques and strategies, which are not necessarily discussed in the commentary. Investments in securities involve the risk of loss. Past performance is no guarantee of future results. MRWM may recommend the services of a third-party attorney, accountant, tax professional, insurance agent, or other specialist to clients. MRWM is not compensated for these referrals.